Are you READY to empower your audience of

entrepreneurs

and

business owners

to verbalize their value virtually or IN PERSON so they can maximize and monetize ALL speaking opportunities for their business or brand?
Quinn Conyers's authentic approach will empower your entrepreneurial audience to turn conversations into cash so they are clear, concise and compelling every time they open their mouth.
As a Keynote Speaker who helps entrepreneurs Command the Crowd, take advantage of opportunities outside their comfort zone and be resilient after rejection, Quinn understands the responsibility of securing the perfect speaker for your event.
Quinn's been speaking professionally at conferences, colleges, and conventions for over 10 years. Whether it's a small training, multi-day women's event, or 1-day workshop, Motivational Speaker Quinn Conyers is always eager and excited to step on stage and share a significant message with your audience.
​
Quinn takes pride in making YOU look good as an event planner! She wants to make your job as easy as possible! If you'd like to book Quinn for your next event, please complete the pre-event questionnaire below. Quinn is honored to serve you, and looks forward to speaking with you soon!
​
TRAINING SPEAKER QUINN CONYERS' PROMISE TO EVENT PLANNERS:
Timely communication & great customer service

An energetic and empowering Keynote Presentation customized and delivered with excitement, for your audience of entrepreneurs or business owners

Tangible action items audience members can implement immediately

A fresh and innovative perspective on what it takes to be successful

Virtual Presentations that POP
Quinn's mission is to empower entrepreneurs to Speak Up so they can use public speaking as a marketing stream, income source or funding strategy in their business.
Quinn's most popular Virtual Presentations include:
Funded in 60 Seconds
---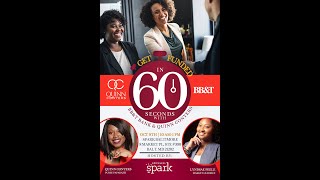 Many entrepreneurs have awesome businesses and amazing products! However if you ask them "What do you do?" or what makes their product different or unique they freeze! They are unsure or have no clue how to articulate their business' unique selling proposition which causes them to lose customers or denies them access to funding! Quinn understands the power of a memorable business pitch and has made it her mission to help entrepreneurs and business owners become business pitch champions! If you are attending a networking event, looking for an investor, trying to get your product featured in the media or win money in pitch contests, you NEED a business pitch! Quinn's ability to pitch her bag business Purse Paparazzi in a way that's clear, concise and compelling has opened up doors she has never imagined! She will show your audience how they can leverage their business pitch through her most requested keynote presentation, Business Pitch Champion: ​ In this interactive keynote your audience will learn:
Why a powerful business pitch is necessary and needed to be super successful as an entrepreneur
The real purpose of a business pitch (hint, its NOT to make a sale)
Major mistakes entrepreneurs are making when speaking about their business and how to avoid them
The exact PITCH formula Quinn used to win $33,000 in business pitch competitions to fund her bag business
How to leverage pitch competitions for FREE media publicity
---
Turn Conversations Into Cash
---
Quinn Conyers will teach your audience how to Turn Conversations into Cash!
Quinn Conyers has mastered the art of moving people to action after she speaks or pitches her business!
She is skillful at converting "interested" prospects into fully invested AFTER a conversation or a public speaking opportunity!
She believes entrepreneurs are failing to grow NOT because their product or service is poor! It's because they don't know how to communicate what they do in a way that's clear, concise and compelling!
As a result, entrepreneurs are losing money because they don't know how to articulate the value of their business or haven't clearly identified their unique selling proposition that truly makes their business different or a disruptor in their industry.
Her engaging interactive Keynote Presentation, Quinn Conyers will show entrepreneurs:
·The #1 secret to speaking with confidence about your business!
·Words, phrases, and language to use to turn prospects into paying clients!
·The CORRECT way to answer the question "What do you DO?"
·3 ways to be unforgettable every time your pitch or speak in public!
·How to AVOID rambling & product puking when networking and establishing new business relationships!
·The Value of a Verbal Business Card and WHY every entrepreneur needs one!
---
---
Are you ready to book Quinn for your next virtual or in person event?
Select an option below to get started!
REQUEST QUINN TO SPEAK
Complete the form at the link below if you would like to invite Quinn to speak at your event.
DOWNLOAD HEADSHOTS
​
Click the button below to download Quinn's Headshots and Publicity Photos
Here's What Other Companies and Organizations Are Saying After Booking Quinn as a Speaker!
On behalf of Better Business Bureau serving Greater Maryland, it is nothing but with high praise, and again, a high honor that I recommend Quinn Conyers to serve your organization through her power of influence and delivery.
Angie Barnett, President, CEO
Better Business Bureau
Quinn brings with her a contagious energy that ignites the fire in the trenches of someone's ambiance. Her passion and commitment to small businesses and entrepreneurs is easily seen and felt from her one-on-one consultation to her speaking delivery.
Natalie Williams, Executive Director
The Women's Business Center of Charlotte
"Quinn Conyers is one of the BEST Guest Speakers I have witnessed at events. Quinn really knows how to captivate and engage the audience . We were so thankful to find such a gem (Quinn Conyers) to present to our attendees at Entrepreneu(HER) in the City's Women in Business Virtual Expo. Big thanks to you Quinn! we cannot wait to have you back."
I felt so bound by the parameters of LinkedIn when writing this recommendation. Quinn is a well crafted and gifted woman who has much to lend and share with others. She loaned her gift of Turning Confidence Into Cash to the Women's Leadership Forum as both a moderator, panel facilitator and presenter. She has the ability to command an audience and speak with authority.

Quinn has the authority to prick the attention of the audience and speak aloud their very intended thought. She speaks aloud what one would only think. Speaking before 500 women at the Women's Leadership Forum she becomes the voice of the voiceless. Asking probing questions of our keynote and panelist while allowing them to still be in the spotlight. Ahhhh the art and gift of her existence and talent that only few possess.

What can one glean from such talent? Confidence. She presented a seminar on From Cash to Confidence. It resonated with the women as they all sought to learn from her gems of wisdom. She taught as well as explored how to become "that women" who needed to step forward in their quest to make their dreams bigger than just the ordinary.

QUINN your talent was appreciated beyond measure and yes, you too smell like "cocoa butter and chocolate" wrapped in a ray of sunlight for all to see the beauty of your gifts.
"Quinn WOWED us at the Fallon Federal Building in downtown Baltimore. Quinn delivered an amazing workshop titled "WOW them with words: How to speak with confidence and connect with your co-workers. From her workshop synopsis: The way people communicate in their place of employment affects every aspect of their job. Whether you are interviewing for a position, working on a team project, or have to facilitate a meeting, speaking and communicating is the #1 skill all government employees must master to be successful. Thanks, Quinn!
Cynthia C.
Executive Director at Baltimore Federal Executive Board
I had the opportunity to book Quinn as a featured speaker for Linkedin Local Montgomery County, MD, a popular event supported by Linkedin worldwide that helps people get to know the persons behind the profiles. Quinn's presence is as powerful as her experience! Our sold out event had participants on the edge of their seats hanging on Quinn's every word. Her topic was turning "Conversations into Cash" and she even gave an unrehearsed, inpromptu "Shark Tank" type pitch upon the request of an audience member. She blew us away. I would recommend Quinn for people and organizations interested in gaining the skills needed to take their conversations to new levels. I plan to stay in Quinn's orbit since stars like her definitley have a gravitational pull. :)
Quinn surpassed my expectations!! As the host of an upcoming virtual summit featuring ministry leaders, I wanted to provide something special as a thank you for their participation. After consulting with Quinn about her services, we decided to offer a training on Presentations that POP since many were accustomed to presenting on the physical stage and would need to transition to the virtual space. Quinn went above and beyond to offer strategies and answer their questions about making the transition and creating conversations that covert. If you are planning an event, hire Quinn to train your presenters. She is guaranteed to elevate the presentations and increase excitement among your presenters.
"Wow! I recently had the opportunity to hear from Quinn Conyers who was a featured speaker for our Black Speakers Network virtual community of over 9,000 members. During this virtual keynote presentation, Quinn educated us on the topic of: Turn VIRTUAL Conversations into Cash

From our member engagement, I could see that our members found great value in this presentation. I am very proud to have Quinn as a member of Black Speakers Network and look forward to working together in future opportunities."
Quinn's Satisfied Audiences Also Include
Are you READY to empower your audience of

entrepreneurs

and

business owners

to verbalize their value virtually or IN PERSON so they can maximize and monetize ALL speaking opportunities for their business or brand?